Competitive Pricing
Price competitiveness is an important factor in getting sales. Buyers will always compare prices between sellers. Combining that with an overall factor of good listings can affect their buying choice. This means that before you list an item on eBay, it is important to understand the price range of what you are selling.
What buyers see in a listing
Lowest prices will not always confirm a sale. Buyers often look at various factors before choosing which seller they will buy from.
Price competitiveness – Reasonable prices compared to competitors
Overall listing quality – Good photos, detailed item description and specifics
Shipping – Buyers will look at shipping costs or free shipping options. As eBay is a cross border platform, some sellers might not sell to certain countries. If you offer your services to uncharted countries, this can give your business an edge compared to other sellers.
Seller rating – Profile shows indicators of a bad seller (High negative feedback)
How to do a competitiveness check
Basically, you want check how your listing compares against your competitor. This is important as this is what will determine a buyer's purchasing choice.
Search for similar items sold by other sellers and look for this information:
1. Average selling price with shipping cost
2. Countries that other sellers sell to. This is important as you are comparing yourself against other sellers. If you are willing sell to B countries,  then you have less competition for that market. Also look for the shipping fees they are charging.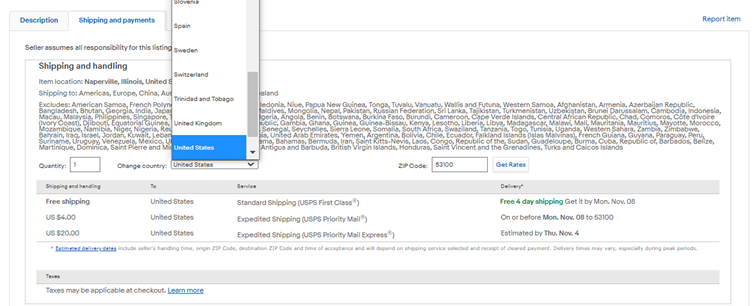 Check the selling coverage
3. Selling style – some items are best sold in bulk vs individually (use volume pricing feature). Or some items can be sold as variations in the same listing vs being listed individually.
4. Listing style – Look at the listing title. Some listings need more elaboration in the title. The style of the product photos also play a role. Some photos can show examples of how the product being used rather than just product itself.
Once you have gathered this information, you can better understand the product landscape. You will be better versed about the demand of the sold item, prices you should set and which countries you should sell to other than the US. You also have a good example how to prepare your listing based on  these top selling sellers.
Go to the eBay site you are planning to sell on eg: ebay.com or ebay.com.au and perform the search.
Look for the differences between what you offer vs others.

Search for your item
In your Seller Hub, you can find Terapeak under Research.
https://www.ebay.com/sh/research
Searching for listings on Terapeak will be much simpler as the result will be listed in a easy to refer list format.
You can also set the filter by category, price range and time frame.